Creators: Senior Colorist Janet Falcon
Falcon shares how color grading tech has changed over the years and the work that challenges her the most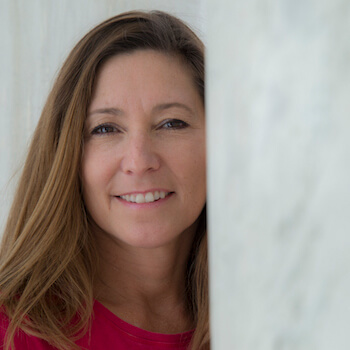 Janet Falcon has been coloring for over 30 years.  She began her career in Miami, Florida on a Rank Cintel Mark III, grading 16 and 35mm negative for national and international clients such as Volkswagen, Miller Lite, and Coca Cola. Most recently, she has graded national spots for T-Mobile, Google, and a Super Bowl ad for Headspace featuring John Legend. She likes to be involved in the creative process and collaborate with the director, DP, and agency creatives to understand the overall look and feel of a project. This enables her to combine her own creative input with the goals of the client. Janet gives 100% to everything she does and treats every client with the same importance.
AX: What does a day in the life of a colorist look like? 
JF: My typical day as a colorist begins by communicating with producers about projects I am booked on for the day. Since I am primarily working from home, I usually start with downloading the high-rez media and speaking with clients, usually via video call, about what they would like for their footage. Once I have completed a first "pass" of color I share a high-quality Wiredrive posting with our producers and the clients. While I wait for feedback or the go ahead to finalize the color, I am often working on other projects with one or more of our producers. The final step once the color has been approved is to render full-resolution files for the editor and send them back via Aspera to our in-house server and assistants.

AX: What made you choose this career path?
JF: In a way, this career path chose me instead of me choosing it. I studied Psychology at Tulane University in New Orleans and took an elective Black & White photography class during my junior year. I spent endless hours in the darkroom printing my own images and eventually decided I would like to pursue photography as a career. During my senior year, I worked with the career office at my school to find an internship with a photographer. Ultimately I landed an internship at a post-production facility. Although it was in the sales department, they hired me after graduation and trained me to be an editorial assistant for a new editor. As it turned out that company had a Telecine room but no colorist. I spent all of my downtime learning in that room and mock-grading film that was left behind from old projects. It was there I did my first client film transfer for orange juice! Eventually, I left that position and moved to Miami where I was hired to assist a colorist and 3 editors.  It was at that facility that I became a night colorist and ultimately the full-time colorist.

AX: What is your favorite part about your job?
JF: My favorite part is collaborating with creative people who are passionate and understand the process and possibilities of color grading. When I began grading many years ago, I often had numerous clients attending most color sessions. Directors, DP's, Creative Directors, and clients would communicate with me about lighting conditions, film stocks, filters, gels, and client needs. It was, and still is, my job to digest and combine all of those thoughts and ideas to create an end product that hopefully pleases the entire room! Unfortunately, this collaboration happens less and less. My clients are often multitasking on numerous projects and much of the crew has moved on to the next set. At times, I'll get creative direction from clients who will say, "just make it look good", and of course that's fine, I can certainly do that! However, I really love when a creative has a specific style in mind and we can work together to create something unique that enhances the entire project.  
AX: What's the biggest misunderstanding people have about color correction?
JF: There are a lot of misunderstandings people have about color correction! Some I used to hear is that I turn a black and white image to color or that color correction means that you're fixing something that is wrong. Of course, I can and do fix many problems, but that is not the main objective for most color sessions. The biggest misunderstanding people have right now is that color correction is not necessary, some people think that because they're shooting video, not film, the image and color quality is good enough and color correction is not needed. Most cameras that shoot Raw files provide LUTs that make the image look OK, but there is so much latitude with Raw files, I can always make images far superior to the basic LUT. And of course, there is adding style that cannot come from a basic camera LUT!
AX: How have the technology and tools that are now readily available impacted color correction?
JF: When I started in 1990 there were no windows, no ability to separate colors, and the tools were extremely limited. Back then it was more of balancing an image and it used to be that what you shot is what you got.  For sure I could fix things but not to the extent that I can now. Grading on Resolve, I can break down an image endlessly, affecting different areas and tones individually. The tools are endless. As an example, I can isolate, window, and track objects as small as an eyeball to take out redness. Another recent example is a female actor who had blue hair during a shoot and then dyed it red.  I needed to change her blue hair to match her new red color. I can also composite images, do logo removals, grade through mattes, and apply creative LUTs.
AX: What project have you worked on that challenged you the most?
JF: As a commercial colorist, I work on mainly :30-:60 second spots.  Working on feature films challenges me the most. Features are up to 2 hours long and can take two weeks or more to grade. I'm used to working on spots that may contain 20-30 shots, and putting a lot of intense effort into each and every shot.  When grading a feature, there can be upward of 2000 shots so maintaining consistency with the look becomes more important than each individual shot. There is also a different goal in terms of how a feature film should look and feel. I find when I work on a feature, I tend to start with a more commercial look and usually I have to adjust my grades into a feature look. Once I get the look down, I can concentrate on the fun part!

AX: What advice would you offer to a young colorist?
JF: Spend as much time as possible with an experienced colorist, be in a room and watch them to see how they work. Also, learn anything that anyone in the business is willing to teach you. 

AX: If you weren't a colorist, what career path would you be interested in? 
JF: Well, if you asked me a long time ago I would've said a photographer. But now, I don't really know, it is hard to imagine what else I would've done all these years. If I were to change careers now, I might want to do something with animals or children.
AX: What lesson did you learn in your career that has helped you the most?
JF: The number one lesson that I have learned is, that you can't please everybody, so figure out who the most important person is to please, and make them happy! 
AX: At the end of a busy day at work, what do you look forward to the most?
JF: I look forward to seeing my family. I have two kids in college, so when they come home I enjoy spending time with them, my husband, my two dogs, of course with a glass of wine.