Creators: Associate Producer Isaiah Cary
Isaiah shares who inspires him the most and how he continues learning on the job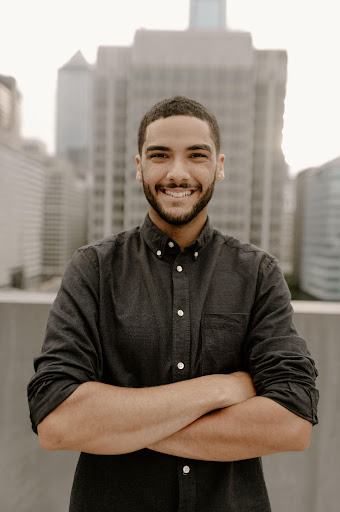 Isaiah Cary is an associate producer with Alkemy X and has been with the team for over a year. He works with our live-action division producing commercials for various brands, like sports teams, hospitals, and everything in between. Isaiah is a proud Temple University graduate who studied film and got his start as a post-production intern at Alkemy X in 2018. When he's not working on productions, he enjoys his other passions like skiing and snowboarding and hanging out with his wonderful girlfriend and their cat Mochi. Isaiah resides in the Fairmount neighborhood of Philadelphia and is a huge Eagles fan. He believes they will make it to the Super Bowl again this year, GO BIRDS!

AX: What does a day in your life look like?
IC:  Every day is different and depends on the projects we are currently working on. We usually are working on bids for potential projects. I also work with clients to help them with their production needs. Some days I am on set with the crew and we are shooting on location making sure our director and clients are happy.

AX: What is the key to being an effective Associate Producer?
IC: The key is being able to effectively problem solve and work with a lot of moving parts. Sometimes you are working with the client on wardrobe and locations while dealing with the DP and camera concerns, and also making sure that the crew has all of the information that they need for the shoot. Being able to problem solve and multitask in a positive and effective way makes all the difference. It's our job to make sure a shoot is a well-run machine from pre-production to production to passing it off to our post team.
AX: What made you choose this career path? 
IC: When I was a kid I always had a camera in my hand if it was available. My mother took a lot of photos of me growing up and we would always look at them together. In high school, I got my first taste of the "tv and film" life when I was able to take a news media class. This became my favorite class in high school and something that I got involved with every year. From that point on, I knew I wanted to do something in media and video production. Temple University offered a great film program that I fell in love with and my career opened up from there. GO OWLS!
AX: What was your first production role and how did this influence you?
IC: My first production role was as a PA. I was actually a post-production intern at Alkemy X. When I first walked into the office, I saw CD Kris Magyarits building a camera and gimbal. I stopped by and asked some questions, and he asked if I wanted to join him on a project that he was shooting in Center City. We filmed a Baltimore Orioles and Washington Nationals spot around the city with our EP Nick Pitcavage. I loved helping and watching what goes into making a spot. At the time I had only known about the post-production world. It influenced me to get more PA jobs around the area, eventually moving into the camera department. I'm now an Associate Producer and the rest is history!
AX: What is one of the favorite projects you've worked on? 
IC: One of my favorite projects was an Imagine Dragons video we worked on. This was the first project that I tackled once I joined the Alkemy X team and I fell in love with every aspect of it. It will always have a special place in my heart and it taught me so much about being a producer.
AX: Who or what inspires you the most? 
IC: I have a few people and things that inspire me. My mother is my first inspiration. She worked so hard her entire life to give me the best life that she could. Seeing her work attitude from a young age made me the hard worker that I am today. Our Executive Producer Jim Huie also inspires me. He is always working on so many different projects with various people from clients, and account reps, to our directors. He touches everything that goes on in the production world here at Alkemy X. He's been an excellent mentor. 
AX: What is the best way to handle constructive criticism in the entertainment industry? 
IC: You need to download it all, and retain it. The issue at hand will most likely come up again, so learn from it and actually keep it in your head so the next time that it comes up you can perform better. There are very experienced people in this industry who want to help the younger generation. When you are working with people who have seen a lot of changes from tape to all digital, to even working during the pandemic, they have a lot of knowledge to pass on. I'm lucky to be able to learn new things every day from the teams I work with. 

AX: Where do you see yourself in 5 years? 
IC: In 5 years, I see myself as a very well-rounded producer working on projects with bigger budgets and more moving parts. I really want to be able to help our directors and create a relationship with them to be an amazing team. I would love to have a group of clients that really love working with us and I can help bring all of their wants to life. Something about being a producer is that you learn something new on almost every project, and the experience and knowledge gained will last a lifetime. I think 5 years from now I will have some new skills to put to use on projects that we will be working on down the line as the industry continues to evolve.
AX: What do you do in your free time? 
IC: I love to ski and snowboard in the winter. I am truly at home in the mountains and it is my favorite activity. I have been riding since I was 6 years old. I am also a huge country music fan. I love tailgating and some good country music on a summer night.