Alkemy X Offers Advice to Young Women Forging New Careers in the Advertising Space
Alkemy X executive producer Sue Fallon, VP of business development Victoria Venantini and social media marketing coordinator Olivia Rotondo offer sage advice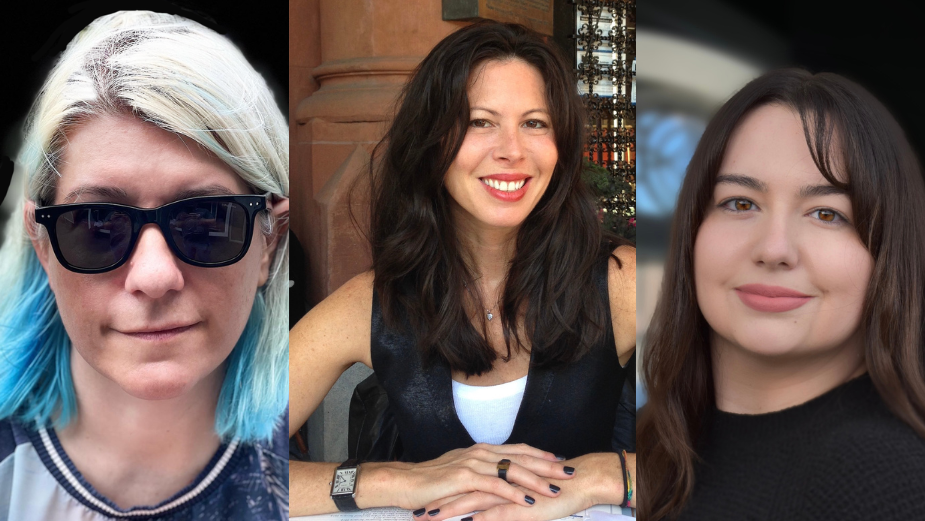 While March's Women's History Month is a much-deserved time to reflect on the powerful impact of women in the advertising, media and marketing industries, global entertainment company Alkemy X is passionate about celebrating the talented women on their team year-round. Starting out in this industry has always required dedication, hard work and ingenuity, but today's hybrid work landscape adds an extra set of challenges and intricacies to navigate for those looking to break into advertising.

Alkemy X executive producer Sue Fallon, VP of business development Victoria Venantini and social media marketing coordinator Olivia Rotondo offer sage advice to young women looking to break into the highly competitive advertising and production spaces:
LBB> What is one thing that you wish you had known starting out in the advertising industry?
S.F> Truly listening and knowing when to ask for help are crucial to success. From a management position, I'd much rather step in at the start of an issue and walk someone through how to solve it than do damage control on a problem that could've been avoided. It's a nice way to help the new person feel supported and share your experience, which will help them learn and grow. Similarly, don't be afraid to admit when you've made a mistake. It's how you handle it that will show your colleagues what kind of co-worker you'll be. 
V.V> One thing I wish I had known starting is there is no linear path when it comes to growth in this industry. It's not your traditional 9-5 with a highly predictable trajectory. You'll encounter many twists and turns with different ways to achieve your desired results.
O.R> I think it's worth confirming that it's 100% true that you need to be adaptable and always learning to be successful. I think it's especially important in the advertising/entertainment/social media world. You need to evolve with the industry.
LBB> How would you suggest young women interested in breaking into the advertising industry identify opportunities and make connections?
S.F> Do your research and see which companies and people are doing work that you are interested in or that you admire, then consider why you're gravitating towards those. Check out the company culture and see how it fits with your career goals. Once you know who you'd like to work with, don't be shy about reaching out on LinkedIn. There are many people willing to connect and help. I'd also encourage you to join online and in-person groups that are relevant to your area of interest.
V.V> When I started in the industry, I did a little bit of everything: PA, director's assistant, catering, wardrobe, production coordinating, etc. I think it's essential to try all different aspects of production and advertising to see what suits you best and find your voice there. Once you find that area of interest, stick with that. Keep pushing forward. Then, as you get your footing, you will be able to find your mentors. Eventually, even a no will become a yes. 
O.R> Social media is probably the easiest way to find opportunities, meet people in your industry who may be hiring, and get a sense of what companies and agencies are out there. It's pretty easy to find a community of like-minded people working in your field between LinkedIn, Instagram, and Facebook Groups, or even now on TikTok! 
LBB> What is the best piece of advice that you have received thus far in your career?
S.F> I think the best piece of advice I've received is when you fail, fail forward. Learn from your mistakes, take those experiences and turn them into something positive. 
V.V> Lean into what you are good at and let that guide your motivations moving forward. Being bold, creative, and always pushing ahead will create a recipe that will open the right doors over time. Don't burn bridges, as the industry is much smaller than you think. Be transparent and always ask questions. If you don't have the answer, never be embarrassed to admit you don't know something.
O.R> That you need to market yourself when you're first starting out looking for jobs (or even internships), it's the best way to make yourself stand out while also proving your hard skills - especially when entering a creative industry.
LBB> Are there any resources (i.e. books/podcasts/news sources/trade outlets/social media accounts) that you would recommend a young woman new to the industry add to their repertoire?
S.F> There are some great Facebook Groups out there. I personally like WheresSpot, The Broad Exchange, and Women in Post Production. LinkedIn has more groups than I can mention, such as Women in Film (https://womeninfilm.org/). They advocate for women and non-binary creatives with many great programs and resources. Free the Work (https://freethework.com/discover) also lists job opportunities, grants, podcasts, and other interesting things. I check them out when I'm looking for freelance talent.
V.V> Networking virtually has been effective for quite some time, but I'm now seeing that Social Media platforms like LinkedIn have emerged as strong and relevant platforms. 
O.R> Subscribe to newsletters from sources in your niche! There are so many free resources available that will help you continue learning. Hootsuite regularly has free webinars on various social media topics, and I've been enjoying those recently. Also, explore Facebook Groups!
LBB> Any advice on gaining experience and learning skills while collaborating remotely?
S.F> I started my job at Alkemy X during the pandemic, so I understand how difficult it can be to learn the ropes at a new company and connect with your co-workers, all through video calls. It's especially challenging when it's early in your career. I think asking to set aside time regularly with your manager is a good way to keep connected. If you have questions or are interested in learning something specific, ask! 
V.V> Today, there are many more opportunities to connect with potential mentors and learn new things through social media platforms. Don't be afraid to ask for an informational interview or a meeting to learn more about an opportunity (or create a new one!). It's all based on those relationships; building positive ones, being present, creative, and embracing being nontraditional. If something catches your eye, do your research to explore new opportunities. 
O.R> A switch to remote work forces you to be more accountable for your self-education. I think it's good to combine learning from your team through experience and seeking knowledge independently. If you regularly carve out time for 1:1 meetings with your team and continue conversations about how you can help each other, it keeps you on the right track.